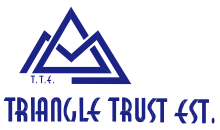 Triangle Trust Est.
Beirut - Lebanon

From Anywhere ...
To Everywhere ...

Shipping
Clearing
Insurance

From Anywhere To Everywhere


Shipping


Clearing


Clearing


Triangle Trust Est.
We timely handle your operations with all required care
Shipping, Clearing, Insurance
Over 20 years of professional services to leading industrials, wholesalers, and retail businesses. Tailor-made solutions to respond to your import and export requirements.
With tens of thousands of handled transactions, we acquired a deep experience in a wide range of products. We offer to our clients safe shipments and fast clearance. Our knowledge and follow-up of local legislation and rules as well as trade preferential agreements contribute to provide our services with an optimal cost.
We handle direct shipments from and to Lebanon. We intervene in cross-shipments mailny to Africa.We directly deal with shipping companies. We intervene at Beirut port and airport as well as land frontiers.
Do not hesitate to contact us for your export or import projects.